Free Table ordering system
made for your business
Provide your customers a quick, simple and effective way to order and pay for their food and drinks at the table.

By scanning a QR code, customers can start placing their order within seconds, pay with ease using Apple & Google Pay, and sit back and enjoy.
Serve customers faster
Because customers can place their own orders your staff can utilise their time in getting the orders to the table.

Typically, tables will turn over 15-20% faster with order at table. Meaning you can also serve more customers too.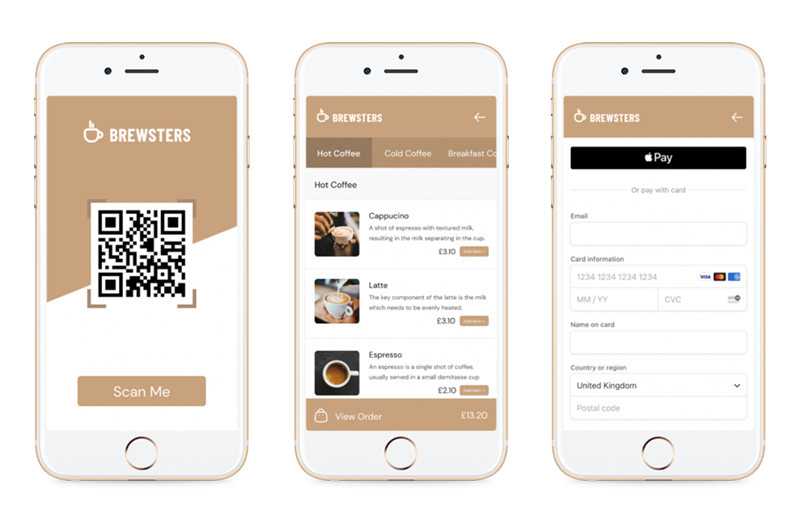 Increase your profits
Order at table is not only more efficient for your staff, quicker and easier for your customers, but it also helps increase your average order value by as much as 20%, going straight on your bottom line.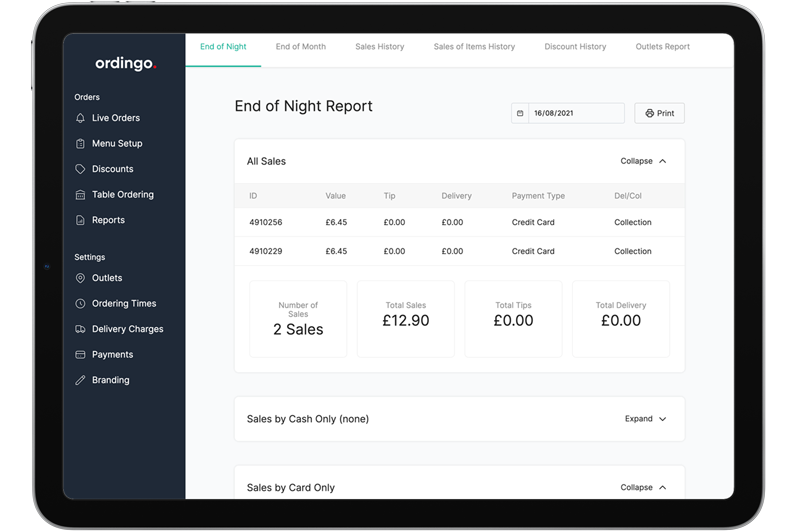 Make fewer mistakes
The customer can clearly see what they are ordering and all their possible options, so no more writing things down wrong or forgetting a drink.

With the ability to quickly remove products or options from the menu, it means your menu is always up to date and accurate.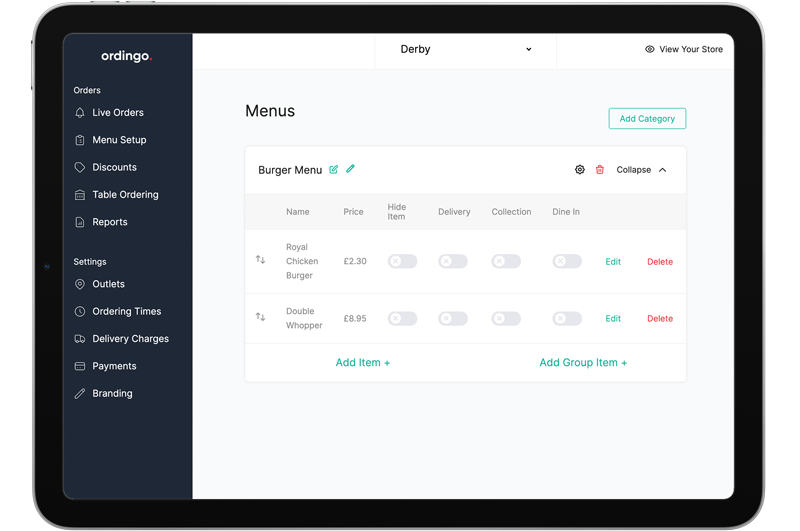 Simple

pricing…

Get your own online ordering up-and-running today. Stop paying expensive commissions on your online orders and increase your profits.

FREE to get started with NO setup, NO Monthly fee and NO contract. Just a simple fee of 2.9% + 20p per order.

Setup unlimited stores, handle collection, delivery and table ordering, and receive all funds direct to your bank account.
2.9% + 20p
per transaction. Excludes VAT at 20%.
Click & Collect, Delivery & Table Ordering
Card payments with Apple & Google Pay
All funds sent direct to your bank
Signup and start taking orders Today!
Signup Now
Frequently asked
questions…
Is Ordingo a Free Online Ordering System?
Yes, there is NO setup fee, NO monthly fee and NO financial commitment. Simply signup, enter you menu, setup your opening times and start taking cash orders for free.

If you would like to offer the convenience of card payments to your customers then we charge a simple fixed rate of 2.9% +20p for all card types (excludes VAT)
Do you offer a setup service?
Yes, we understand that some people may not have the time to do everything themselves and so we offer an full setup service.

Our expert team will get your menu and business setup in no time at all so you can get on with runnign your business. The setup service is £199 + VAT, payable in advance.
Do my customers have do download an App?
No, Ordingo creates you a 'web-app' which is a web site specifically designed to work with all mobile devices as well as pc's and tablets.

Your customers simply scan a QR code, click a link or enter a web address and they can order and pay in less than 60 seconds.
Do I need an Apple & Google Account?
No, Ordingo is a web based solution and does not need your customer to download an App.

Your customers can scan a QR code or click a link own website to go striaght to placing an order.
Can I add this to my own website?
Yes, if you already have your own website you can simply add a link or button that directs your customers to your Ordingo online ordering system.
Can I update my menu my self?
Yes, you have full control over your menu, prices, offers and company information which you can edit anytime through your easy to use dashboard. Should you need any help we are always here via email or online chat.
Can I add on a printer for receipts?
Yes, Ordingo is compatible with Epson Intelligent printer range, which we can supply fully setup and ready to go. Prices start from £229 + VAT and come with a 2 year warranty.
Can I have more than one outlet?
Yes, whether you need 1 or 20+ stores, we have you covered and best of all there is no extra cost either!

So if you need to setup a special menu, popup takeaway or trial a second outlet, Ordingo has the right solution for you.
Can we accept Apple & Google Pay?
Yes, as well as standard debit and credit cards, Apple Pay and Google Pay are fully supported too, making it super quick and easy for your customers to pay.
Do I have to sign a long term contract?
No, there is no long term contract for Ordingo you simply signup, create your menu and start using the service.

You only pay when you start taking orders and we take our fees upfront so the money you receive is the final amount.
Can I upgrade to a full app & website?
Yes, Ordingo is powered by App4, a complete online ordering, mobile app, loyalty, marketing and payments system and we offer an easy upgrade option.
Ready to get your own online ordering system?
Create your free online ordering system and start serving your customers today